Send a Gift with Lasting Impact
GIVE A GOAT TO A FAMILY IN NEED
Just one goat can provide a family with
a stable source of food and earnings.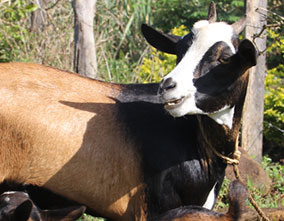 Goats are hardy, reproduce quickly and can be raised in a variety of climates to produce staple items such as milk, cheese and manure for farming—which can then be sold in the market.
More Meaningful Gifts
From Our Catalog:
COW

Protect a family from
malnourishment.

FLOCK OF CHICKENS

Provide a stable source
of food and income.

PIG

Help a family break the
cycle of poverty.
Your Gift in Action
One of our many projects is helping people in Nicaragua raise farm animals—like goats, chickens and pigs. The animals can provide food and income—and some can eventually be sold for a profit. One woman named Maria has already raised a few animals on her own. They are growing fast and becoming more marketable by the month!

Share Your Generosity
With each purchase, you can send a personalized e-card to your friends and loved ones to tell them about the life-changing gift you've made in their honor.


Gifts for Life Provides Lasting Solutions
to fight hunger, create economic opportunities, support health education
and strengthen communities around the world. View all gifts.