SPRING 2023 E-NEWSLETTER

WE ARE CALLED TO BOLD ACTION
The journey we're on together is one of bold action that engages with the most vulnerable among us. It is inclusive, leaving no one out, and spreads love, hope and healing.

Last year, Episcopal Relief & Development adopted a new strategic plan that we entitled Working Together for Lasting Change. This plan lays out our goals for the next seven years. By the year 2030, our aim is to equip 350,000 trusted change agents in a movement to advance social cohesion and resilience for four million people annually around the world. This is an ambitious agenda, but we have no doubt that we are called to think big.

The new strategic plan affirms the core commitments at the heart of our agenda, addressing vulnerability and social inclusion as we advance our work in the following areas:


| | |
| --- | --- |
| • | Early Childhood Development: Our programs focus on several key areas to help communities nurture healthy children from the first days of life up to the age of six. |
| • | Gender-Based Violence: We're playing a pivotal role in challenging the attitudes and behaviors that perpetuate gender-based violence, injustice and discrimination. |
| • | Climate Resilience: Our work with local Church and ecumenical partners helps communities respond to the changing climate, both through adapting agricultural techniques and preparing for extreme weather. |
| • | Disaster Response: "Relief" is in our name, and it's central to our work. In the wake of natural and human-made disasters, we provide rapid response and long-term recovery, focusing on vulnerable, underserved groups. |
All of these efforts are powered by the strong relationships we have in communities around the world. These relationships within the Anglican Communion and with other faith-based groups have been forged over time. They consist of mutual trust, respect and appreciation, and a shared vision of a more just and loving world.

Just as central as these partners are steadfast friends like you, who make all of our programs possible. Your continued commitment is a source of inspiration to me and to all of us at Episcopal Relief & Development. I'm grateful that you're with us.
Faithfully,

Robert W. Radtke
President & CEO

HELP FOR UKRAINE: ONE YEAR IN
This February marked one year since the Russian invasion of Ukraine. In that time, millions have suffered incalculable loss. As of this January, there were over 18,000 documented civilian casualties and almost 13 million people who'd been displaced or were refugees. Nearly five million more who originally left their homes have returned to face extremely difficult circumstances.

Soon after the conflict broke out, we began working with ACT Alliance, and through this network, we now directly support 70,000 people each day. Much of this assistance entails providing food and cash transfers to people in Ukraine who are impacted by the war.

Episcopal Relief & Development also continues our partnership with the Convocation of Episcopal Churches in Europe (CECE), equipping local congregations throughout Europe to assist Ukrainian refugees. CECE supports congregational capacity by providing peacekeeping resources, resettlement and language services, pastoral care and direct services, including cash transfers.

Although the city of Chernivtsi in western Ukraine is far removed from the fighting, it has faced its own steep challenges as people fleeing war-torn areas arrived on their doorstep, sometimes with little more than a suitcase. Chernivtsi Regional Emergency Hospital — already undersupplied — now struggled to tend to a massive influx of patients. But one of our partners through the ACT Alliance, Hungarian Interchurch Aid, bought and transported medicine and ambulance equipment that has made a huge difference.

"There were difficult times as the war broke out, something we thought unimaginable," reports the hospital's medical director. "It was only due to the generosity of our partners abroad that we managed to get back on track and keep providing the necessary services for the now increased population of our region."

RESPONDING TO GROWING FOOD INSECURITY
A convergence of factors — the COVID-19 pandemic and its aftermath, climate-related disasters and regional conflicts — has driven hundreds of millions of people around the world into poverty and led to soaring levels of food insecurity. In many regions, undernourishment was already high, and global events served to make a bad situation worse.

One region where we're working to alleviate hunger and strengthen livelihoods is in Central America's Northern Triangle. With our local partners, we've procured and delivered 3,199,664 meals to 24,054 people within 5,676 households from 286 rural communities in El Salvador, Guatemala and Honduras.

There are ripple effects. When struggling families save money on food purchases, they're able to increase their spending on other essential goods, like education and health care.

In Honduras, a number of government schools require families to bear the cost of internet data when children do schoolwork at home. Some families have been able to pay for the internet access with the money they've saved through the food relief distribution.

And in Guatemala, Sandra, a single mother, uses the money she saves on food to access medical care for her three-year-old daughter. Her daughter has microcephaly, a rare neurological condition, and now Sandra can regularly travel to a hospital where her daughter gets medical exams and essential therapy.

Dr. Daniella Flamenco, who leads the project team at the Diocese of El Salvador, says, "This project also allows community members to meet one of their most basic human necessities, food. And it allows us to remain true to our calling to care for the most vulnerable amongst us."
Goat

For $80, you can give sustainability — as goats are hardy, reproduce quickly and can be raised in many climates to produce stable items like milk, cheese and manure for farming.

Send a Goat

MONTHLY DONORS SUSTAIN US ALL YEAR LONG
Every gift you make to Episcopal Relief & Development furthers our mission to serve as a compassionate response to human suffering in the world. And if you're wondering how you can maximize the impact of your financial support, please consider joining our Sustainers Circle by making a monthly gift.

The Sustainers Circle was formed by a group of dedicated supporters who wanted to contribute on a monthly basis to ensure that Episcopal Relief & Development has the capacity to respond to urgent needs as they arise.

Monthly giving is powerful because it provides a dependable stream of income to support the full range of our work. It ensures that we can respond to disasters with food, water, medicine and shelter and assist with long-term recovery. And it allows us to fight poverty and hunger and promote the wellbeing of communities around the world.

It also just feels good! Knowing that every month you're sowing seeds of lasting change can increase your feelings of connection to the good work you're doing for so many.

To learn more about our Sustainers Circle and whether it's right for you, please contact us at 1.855.312.4325. Or, if you would like to start giving monthly right now, simply visit our website at support.episcopalrelief.org/monthly to start your monthly gift. You can revise your commitment at any time.

However you choose to give to Episcopal Relief & Development, please know that you are having a lasting impact.
With appreciation,

Betsy Deisroth
Vice President, Advancement
We promise to always use your donation wisely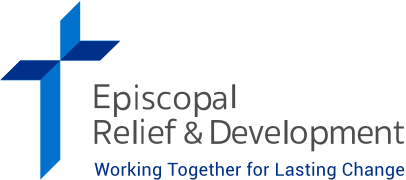 •